Injection moulding, TFC, coating and assembly of your plastic housings and technical components

Plastic housings and injection moulded parts for industrial machines
You expect the best when it comes to the reliability and robustness of your industrial machines. Since our foundation in 1983, we have focused on the production of plastic housings and technical injection moulded components for industrial applications, such as parts for bakery machines and housings for thermoconnectors.
Injection moulding and TFC/SFM as the foundation for housings
Housings for components used in industrial machines are characterised by small to medium-sized annual production volumes and strict quality requirements. Pekago uses injection moulding and TFC to produce high-grade housings and technical components for a number of clients. In addition to processing the plastic (via injection moulding and TFC), we also offer coating and assembly services. On top of that, we can produce the necessary moulds and any auxiliary equipment.
Some of our prominent clients in the industrial machines sector are Leybold, Fast & Fluid and Baumer HHS.
Your product design, our expertise
It starts with your design: you have a product that must be provided with a good plastic housing and other injection-moulded components. Pekago converts your design into a manufacturable injection-moulded or TFC/SFM component, and also takes care of mould construction, production and, if desired, even the complete final assembly.
Engineering of plastic housings for industrial machines
What is the best type of plastic to use for injection moulding and TFC processes? What tolerances need to be taken into account? Our engineers have the knowledge and expertise to offer advice and help you find the optimal solution for your plastic housing or component. We always follow standard procedures in accordance with our ISO 9001 certification.
Inspiration for injection moulding and TFC/SFM
The following examples represent a selection of the available options at Pekago. In all instances, Pekago has optimised the customer's design for injection moulding, built the moulds and undertook the production.
Parts for bakery machines – Bakon Food Equipment
A nice example of an injection moulding product for industrial machines is the pistol that this customer uses for its spraying machine. Pekago injection moulds the components and facilitates partial assembly, including tapping threads, fitting nylon guide bushings and gluing on a cap.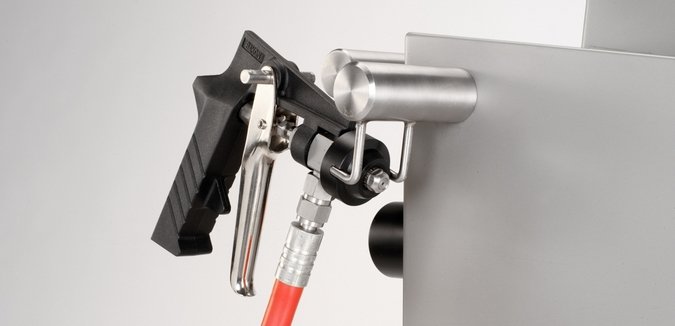 Housings for thermoconnectors – Baumer HHS
Baumer HHS manufactures professional gluing equipment for the packaging industry. Pekago uses high-performance plastic housings to shield connector blocks. The temperature in these blocks can reach up to 90 degrees Celsius.