Plastic housings
for analysis equipment
Pekago is producing more and more plastic housings for analysis equipment. Using compact injection moulding techniques or TFC, we can produce small or medium-sized series of products. If you wish, we can even add coatings, inserts and printing.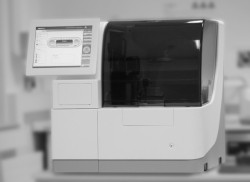 Analysis equipment
Do you operate in the medical analysis, biotechnology, life science, in-vitro diagnostics or elemental analysis sector? If so, you probably work with equipment that has to perform under laboratory conditions. An increasingly prominent part of our portfolio consists of the production of client-specific housings for analysis equipment.
Plastic housings for analysis equipment
Every technique listed on our website is utilised for the production of housings for analysis equipment: injection moulding, TFC, coating and assembly. For example, we produce housings for haematological applications and the analysis of drugs and blood. Using injection moulding and TFC, Pekago can produce both very small and very large housings with dimensions of up to circa 1.2 metres. Because the annual production volume of such equipment can range from a few dozen to thousands of units, we are happy to advise you on the techniques, moulds and finishing that offer the most value for money. Pekago works together with prominent businesses in the Netherlands and Germany, including Agilent Technologies, Thermofisher Scientific and Bruker.
ISO 13485
Pekago has an ISO 13485 certification, which means we are able to use injection moulding to produce components for analysis equipment that meet this standard for risk reduction for patients and users. Download the certification.