Injection moulding, TFC, coating and assembly of your plastic housings and technical components

Injection moulding and thermoplastic-foam casting for agricultural applications
You expect the best when it comes to the reliability and robustness of your agricultural equipment. Since our foundation in 1983, we have focused on the production of plastic housings and technical injection moulded components for agricultural applications, such as parts for daylight greenhouses and feed throughs for cows.
Injection moulding and TFC/SFM as the foundation for housings
Housings for components used in the agrarian sector are characterised by small to medium-sized annual production volumes and strict quality requirements. Pekago uses injection moulding and TFC to produce high-grade housings and technical components for a number of clients. In addition to processing the plastic (via injection moulding and TFC), we also offer coating and assembly services. On top of that, we can produce the necessary moulds and any auxiliary equipment.
Some of our prominent clients in the agricultural sector sector are Lely Industries, Alcomij, Microfan, Technokas and Variass.
Your product design, our expertise
It starts with your design: you have a product that must be provided with a good plastic housing and other injection-moulded components. Pekago converts your design into a manufacturable injection-moulded or TFC/SFM component, and also takes care of mould construction, production and, if desired, even the complete final assembly.
Engineering of plastic housings for agricultural equipment
What is the best type of plastic to use for injection moulding and TFC processes? What tolerances need to be taken into account? Our engineers have the knowledge and expertise to offer advice and help you find the optimal solution for your plastic housing or component. We always follow standard procedures in accordance with our ISO 9001 certification.
Inspiration for injection moulding and TFC/SFM
The following examples represent a selection of the available options at Pekago. In all instances, Pekago has optimised the customer's design for injection moulding, built the moulds and undertook the production.
Fresnel lenses for daylight greenhouse

The entirely Dutch grower Ter Laak uses Fresnel lenses manufactured by Pekago. These lenses are made using a very special injection moulding technique. These Fresnel lenses focus the sunlight onto a collector. This converts the light energy into thermal energy and provides for perfect heating throughout the greenhouse without the plants being exposed to too much direct sunlight.
Read the whitepaper on compression injection moulding.
Feed troughs for cows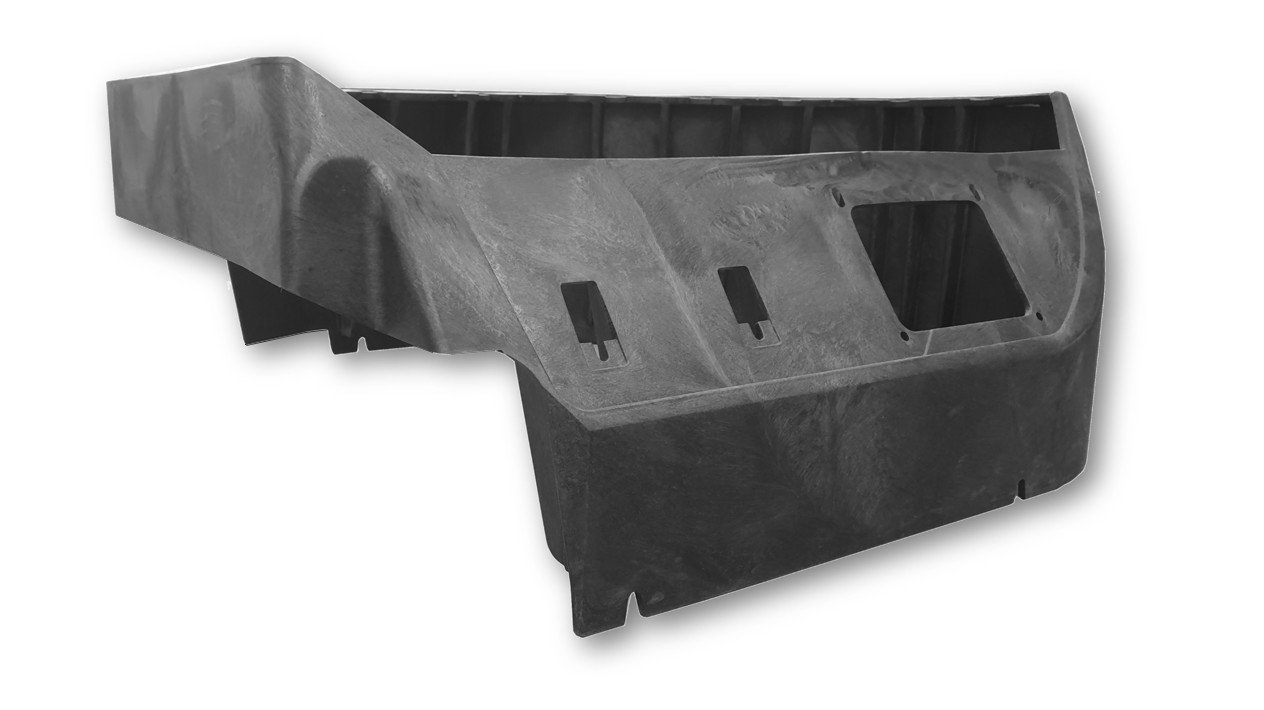 Lely industries NV uses feed troughs made entirely using thermoplastic-foam casting: large, robust and well suited to the automatic feeding systems of one of the agricultural sector's leading suppliers. This product is manufactured on a 1500T injection moulding machine.