Spritzgießen, Schaumspritzgießen, Lackieren & Zusammenbau Ihrer Kunststoffgehäuse und technischen Komponenten
Mould maintenance: Let every mould work like a charm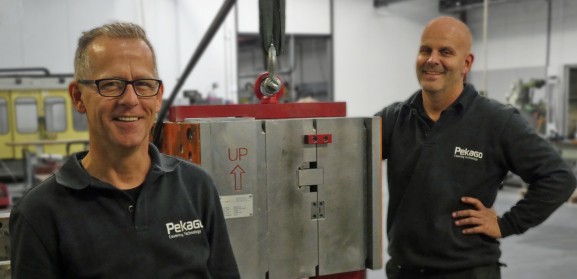 17 Jan. 2023
Proper maintenance of injection moulds is essential to ensure the consistent quality of the plastic components. Moulds are exposed to acute forces and high temperatures during production. Our mould makers will pamper them to prevent damage.

Maykel Geerts and Pieter-Jan Luttikhuis are happy to talk about what this pampering involves in their blog on our website.
"We work with a great variety of moulds. The variety makes working at Pekago a lot of fun", says Maykel Geerts. Colleague Pieter-Jan Luttinkhuis agrees wholeheartedly. Maykel and Pieter-Jan have been responsible for mould maintenance at Pekago since the end of 2018. They're an important link in our quality chain. "We work for industries with special demands on the plastic products we make. The moulds here may very well be called precision tools. Those tools require substantial investment from our customers; it's only natural that we should take special care of it."
A Good Start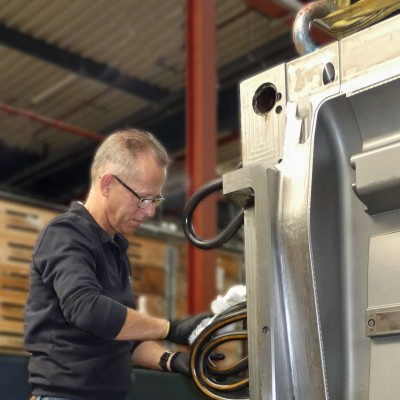 Pieter-Jan and Maykel's responsibility starts as soon as the moulds arrive at Pekago. Irrespective of whether the mould is brand new or whether it has already been in production at another injection moulding company: a careful inspection follows upon receipt. "We obviously check the cavity ('mould cavity') carefully for possible damage", says Maykel, "but we also do tests to determine whether the (cooling) connections function properly and whether all the components move smoothly in relation to all the others. If it's not operating satisfactorily, we make sure that it's improved.
To prevent rust formation along the way, (new) moulds are often provided with a substantial layer of grease. Most of the grease has to be removed before the mould can go into production. After that, the injection mould can be scheduled for a trial injection." Pieter-Jan continues: "In the case of new moulds, the customer often wants to have changes made to the mould as a result of the inspection or trial injection. That happens when, for example, they have done further development of the product. Those developments are then implemented in consultation with our engineers and our mould maker, Joost Huybregts. We have all the machines we need to do the lathing, milling and grinding ourselves."
Ready for injection moulding
Only once the customer is completely satisfied with the products that have been produced with the mould will the actual production start and the mould prove itself. "We do injection moulding of lots of small to medium-sized series", Maykel continues. "The moulds are usually in use on the injection moulding machines for periods ranging from days to weeks, after which they are removed and taken back to the mould storage site until the next production".
"Once an injection mould comes off the machine, it's delivered back to Pieter-Jan and me with a mould inspection card and a few of the last shots (last products of a production run). The operators and mould counters write their comments on the operation of the mould on the mould inspection card. We then start the maintenance procedures based on those notes and the products in hand. The mould is then optimally reconditioned for the next production run."
"Proper maintenance of injection moulds is essential to ensure
the consistent quality of injection moulded products"
Special Plastics
Pieter-Jan explains: "At Pekago, we naturally do mould injection for many products with standard plastics. But we also make a lot of products with non-average plastics that are, for example, fire-resistant or extra reinforced; such as Ultem or glass-filled materials. These special plastics have an extra impact on the moulds: they exude gases during the injection moulding process that can contaminate the air vents and ejector pins in the mould. For example, the air vents are very thin ducts - only a few hundredths of a millimetre deep. You can imagine that it doesn't take much to block one of those.
This kind of contamination directly affects the operation of the injection mould. For example, an ugly flow line could form in the plastic products during injection moulding or the product could even display burn marks. If the ejector pins are dirty, the product will not be pushed out of the mould smoothly. It's therefore essential to make sure that the air vents, as well as the pins and any other moving parts are always cleaned very carefully."
High Tech?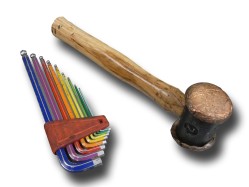 Mould maintenance demands craftsmanship. Both Pieter-Jan and Maykel have years of experience with many different employers and that experience comes in handy every day. Each mould demands a different approach. "When we start working on a mould, the first things we pick up are a set of Allen keys and a copper hammer. The injection mould must be taken apart completely and that's not always easy due to operational contamination. The hammer is made out of copper because copper is softer than the mould material. It's therefore possible to give the mould a nice hard tap without causing any damage to the mould. And sometimes you have to tap quite hard to get some of the parts loose again", says Pieter-Jan.
"A hammer and allen keys, that doesn't sound exactly high tech, right?", Maykel grins, "but good maintenance doesn't really come with complicated tools; it's more about the know-how!" "We do however have a modern ultrasonic bath to clean the components really thoroughly", Pieter-Jan continues. "It consists of two parts: in the first bath, the contamination is vibrated loose with sound waves. After which the mould components go into the so-called pacifier bath. This is where they're rendered completely grease-free."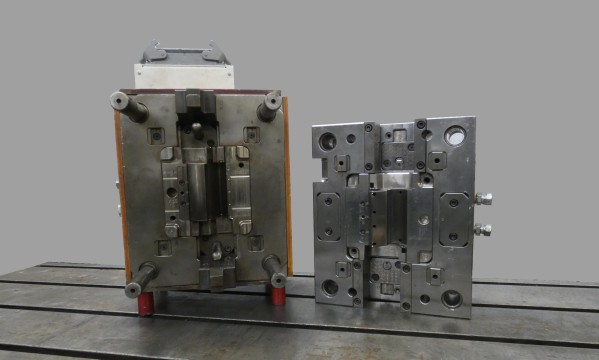 "When they come out of the bath, all the parts are as good as new again! Other mould parts are cleaned by hand - a real high-precision job. Once all the mould parts have been cleaned, the surfaces of the moulds are treated and, if necessary, conditioned. Then the injection mould is ready to go to our warehouse until the next job."
The front and back of a mould, after production, the right half of which has already been ultrasonically cleaned.
Craftsmanship is…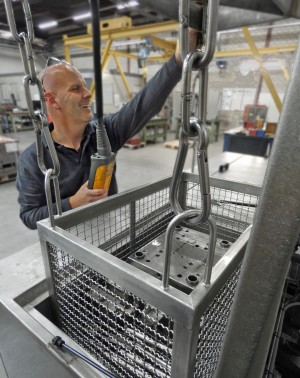 As mentioned before, mould maintenance demands real craftsmanship. "Because we work with so many different moulds at Pekago, the work is very varied and it's always a challenge to keep those moulds running like a charm", says Maykel.
"We're proud of our work and it's also nice to transfer our knowledge to, for example, our interns. When someone comes to us for an internship in mould maintenance, we really want them to learn something that doesn't come from the text books. Not only about moulds, but also about how things work in business. They should really benefit from the internship and go back to school with a good feeling about Pekago. That way, we believe we're really contributing to the training of new professionals."
.
.
.
.
.
Pieter-Jan Luttikhuis
Matrijsonderhoud
Maykel Geerts
Matrijsonderhoud