Consultancy, development and construction of injection and other moulds
Moulds are fabricated both in-house and by permanent partners in Asia. The choice is made in consultation with you on the basis of possible cost advantages, lead time and protection of intellectual property rights. This way, Pekago offers maximum flexibility and always the best solution in purchasing moulds.
The mould specifications are drawn up and checked by our engineers. Based on logistical and cost considerations, serial production of the parts generally takes place in-house; for moulds fabricated in Asia, this is taken into account from the beginning. Furthermore, with Pekago you are always 100% owner of your mould.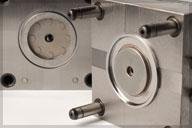 We also perform all mould maintenance ourselves. Because we have all the technical data for the moulds from elsewhere, it is also a simple matter for us to perform any product changes in our own tool and die shop. For you, this means low initial moulding costs and high flexibility.