Pekago develops and injection moulds lightweight interior parts for multiple programs in the aircraft industry. These products have extensive requirements concerning appearance, weight, fire safety and durability. The combination of weight- and size reduction, strength and stiffness are a continuous challenge.
Please contact us for a bespoke solution.

Plastic parts for the aircraft industry
Many components are used in comfort modules, galley and cabin equipment, window units and chairs. Pekago supplies for various programs a variety of plastic parts, according to AS 9100.
Programs
Currently, Pekago is involved in a number of aircraft programs, providing plastic interior parts and accessories, including:
Airbus A320

Airbus A330Neo

Airbus A350

Airbus A380

Bombardier Global 7000/8000

Aerocat lightweight trolley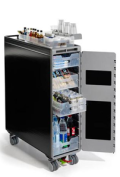 All set for high performance plastics
The plastics used in the aviation industry are of the high performance type. Using these specific materials ensures weight reduction and fire safety. They also help to obtain function integration and reduction of maintenance. Materials used are e.g. PPSU, PES, PEI and PC.
Why Pekago?
Injection moulding machines sized 150 to 21.000 kN (15 to 2.100 tonne)

Engineering, mould construction- and repair, injection moulding and finishing in house

Coating of plastic, including waterborne paints and FST-coating in house

Fully optimized for processing high performance plastics

Complex, lightweight products in small and medium volumes for new programs and MRO projects

Guarantee on manufacturability, tooling and products

Transfer of third party moulds, as well as new tooling

Milling and other finishing

AS 9100 certified for engineering, injection moulding, coating and finishing
Contact us
Are you looking for an experienced, AS 9100 certified supplier of plastic covers or technical parts for the aviation industry? Please call +31 ()13 534 84 34 or mail us at info@pekago.nl. You can also use our contact form. We'll be in touch as soon as possible.